Enlighten™ Chemical Peel
Brighten Your Face & Reduce Hyperpigmentation in 28 Days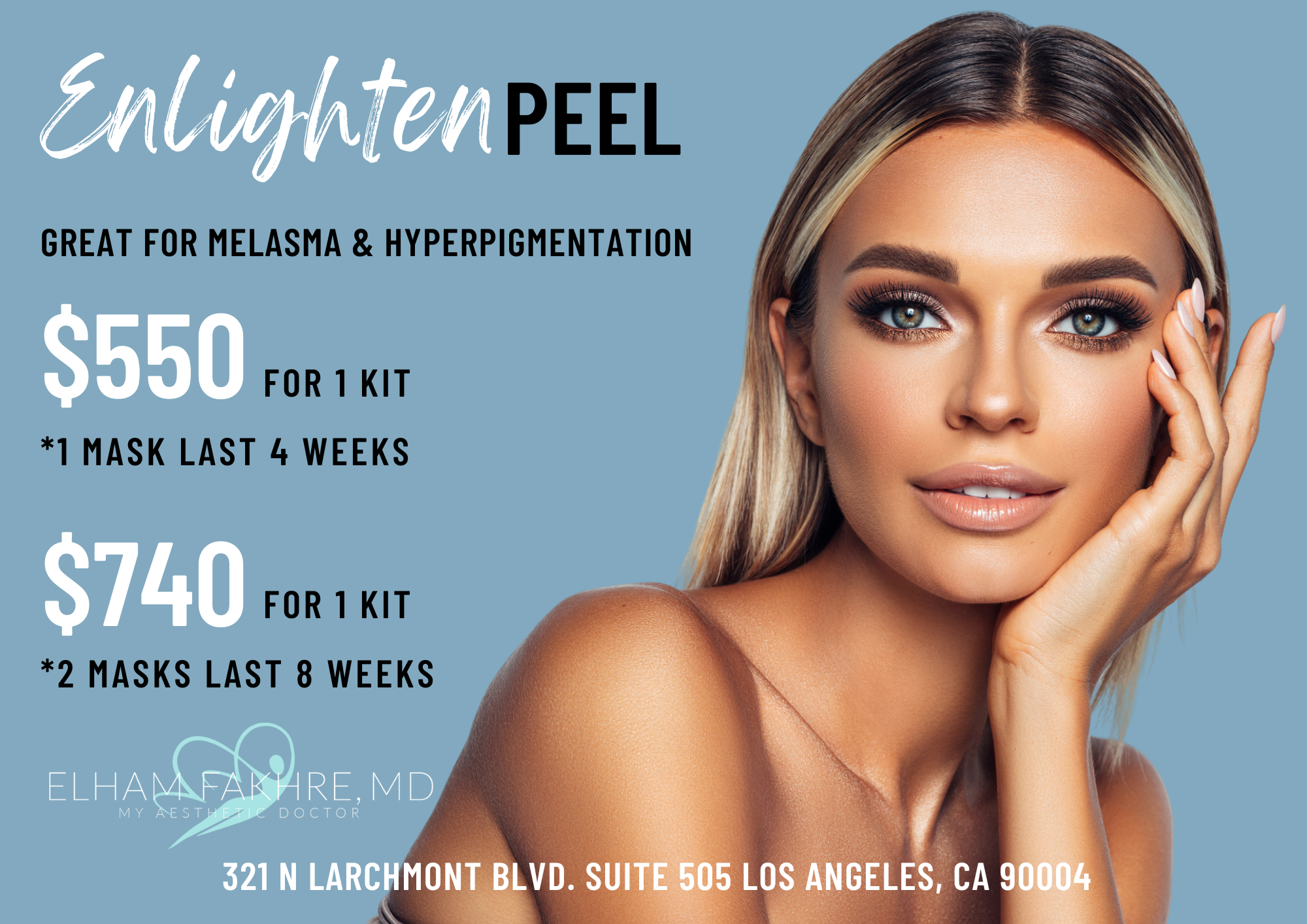 Ready to feel more confident? The Enlighten™ Peel is a new prescription level chemical peel and skin-lightening system. It is designed to help exfoliate the skin and promote skin cell turnover so the pores shrink, sun damage lifts, fine lines and wrinkles are smoothed. With the Enlighten Peel, you can also lighten hyperpigmented skin, even for darker skin types with irregular pigmentation areas, or pitted acne scars, or as a way to prep the skin for laser treatments for other chemical peels.
The Enlighten Skin Peel can beautify your appearance and even out your skin tone. It is noninvasive, painless, and there is minimal associated downtime.
At My Aesthetic Doctor, Dr. Elham Fakhre, MD administers all cosmetic procedures herself. That means you will receive the care of a board-certified internal medicine physician who has been certified in Aesthetic Medicine for over a decade. Contact us at (323) 716-0711 to book your initial consultation.
How It Works
The Enlighten peel inhibits melanogenesis by paralyzing melanin production. It exfoliates the upper surface of the skin and is enhanced by lightening agents, and during the 2-step prescription peel that takes about 20-35 minutes, your discolored pigmentation is brought to the surface, which increases cell turnover. The peel goes even deeper to inhibit further hyperpigmentation. This treatment is done at our office, then the peel is left on the face for about 8-12 hours, where you can continue your aftercare at home.
Enlighten Peel Aftercare
Once you are home, and then there is a 28-day home care regimen to work against discoloration or skin blemishes. Diligent aftercare is necessary for optimal results, and Dr. Fakhre will go over your at-home follow-up treatment plan to ensure you are prepared for what to expect.
The 3 after-care steps following an Enlighten Skin Peel include:
Apply Continuous Depigmentation: Your skin will begin to flake and peel about 1-2 days after treatment, which will last for about 5-10 days. The Continuous Depigmentation system is applied twice a day for 4 weeks to see full results.
Soothe & Protect: To achieve optimal results, it's crucial to protect the skin and prevent sun damage. The all-inclusive 3-step post-care system soothes any irritation and heals any wounds.
Retouch & Maintenance: To retouch dark spots, you should revisit us at My Aesthetic Doctor after week 2-4. Your skin lightening regimen should continue for the next 3-6 months before having another Enlighten treatment.
What It Treats
The Enlighten Skin Peel can effectively even out skin tone with targeted treatment to reduce or eliminate hyperpigmentation, melasma, blotchy patches, scarred skin, dull skin, freckles, and large pores. It is safe for every skin tone, including dark skin types. In fact, it has been called the best peel for ethnic skin. Patients with darker skin are at higher risk for hyperpigmentation from traditional peels, but the Enlighten Skin Peel is safe, easy, and there is limited downtime.
Is the Enlighten Peel Right for Me?
If you want to experience all the above-mentioned benefits, you are likely an ideal candidate for the peel. It is safe for any type of skin type of color, including for those who have acne, pitted acne scarring, hyperpigmentation, melasma, scars, and more. At My Aesthetic Doctor, we will advise you whether the Enlighten peel is right for you and create your treatment plan designed specifically for your needs.
Interested in learning more about cosmetic enhancements for your face? Contact our office at (323) 716-0711 to book your appointment.